Experiments for Young Engineers and Scientists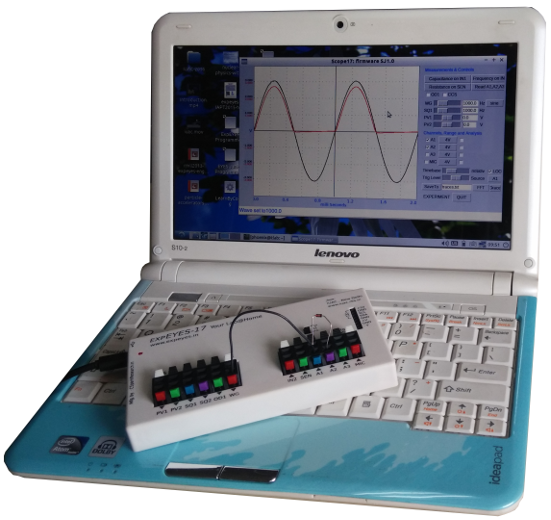 A tool for learning science by exploring and experimenting.

Covers Experiments at Under Graduate and Graduate level

4 channel Oscilloscope, 1Msps, +/-16V input range


Sine/Triangular Wave Generator, 5Hz to 5kHz

Programmable voltage sources, +/5V and +/-3.3V

Frequency Counter and time measurements.

Supports I2C standard sensors


12bit analog resolution.

Open Hardware and Free Software.

Software in Python programming language.

get started with the User Manual and Videos
Tested on Raspberry Pi (deb file)
This web page contains information about ExpEYES, a hardware & software framework for developing science experiments, demonstrations and projects without getting in to the details of electronics or computer programming. It converts your PC into a science laboratory. Design of ExpEYES combines the real-time measurement capabilities of micro-controllers with the ease and flexibility of Python programming language for data analysis and visualization. It also functions as a test equipment for electronics hobbyists and engineering students. Software is distributed under GNU General Public License and the hardware designs are under CERN OHL.
Inter-University Accelerator Centre, New Delhi, is providing training to teachers on this and other computer interfaced equipment under it's PHOENIX project. To be informed about these programs and other developments you may join the phoenix mailing list.

Click HERE to reach the online registration page of the upcoming training program at IUAC.

The device was released by Jithin B P, under the name Seelab-Jr. Later on absorbed in to the PHOENIX project of IUAC under the name ExpEYES-17. Pages hosted by IUAC are HERE.

---
contact: Ajith Kumar (bpajith at gmail dot com)